In order to use the ticket system, you must be registered and logged in to our site.  Our registration system uses techniques to keep bots out. When you are not logged in and click support on the top menu, you will be asked to log in or register.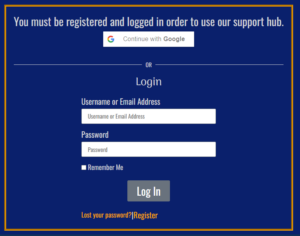 "Continue with Google" will sign you in and/or register you for the website. This is the quickest and most secure way to register. You can also log in with your credentials or register by clicking the link "Register". Once you have successfully registered, you will be redirected to the "Support Hub".  (You will be redirected to the "My Account" page if you just registered.  From there use the button "Support Hub".)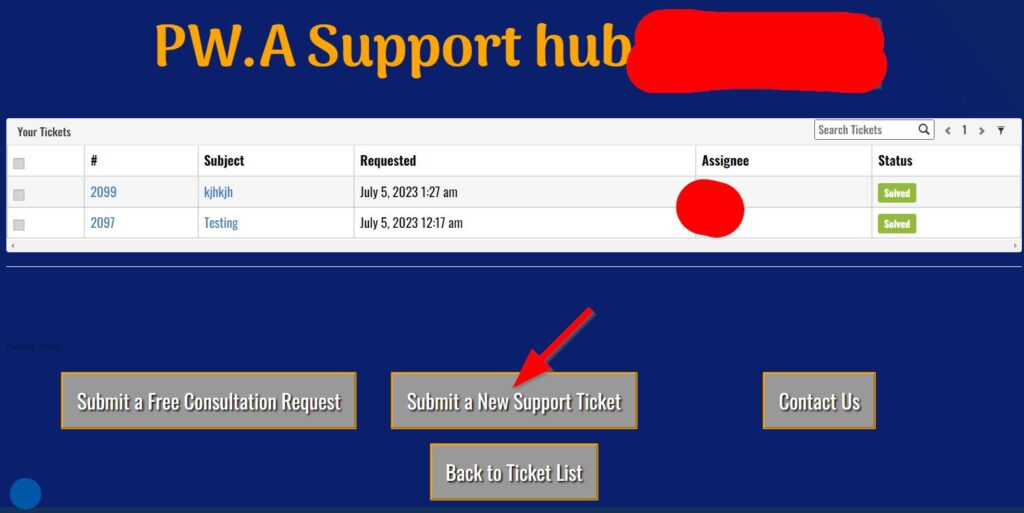 Use the button "Submit a New Support Ticket".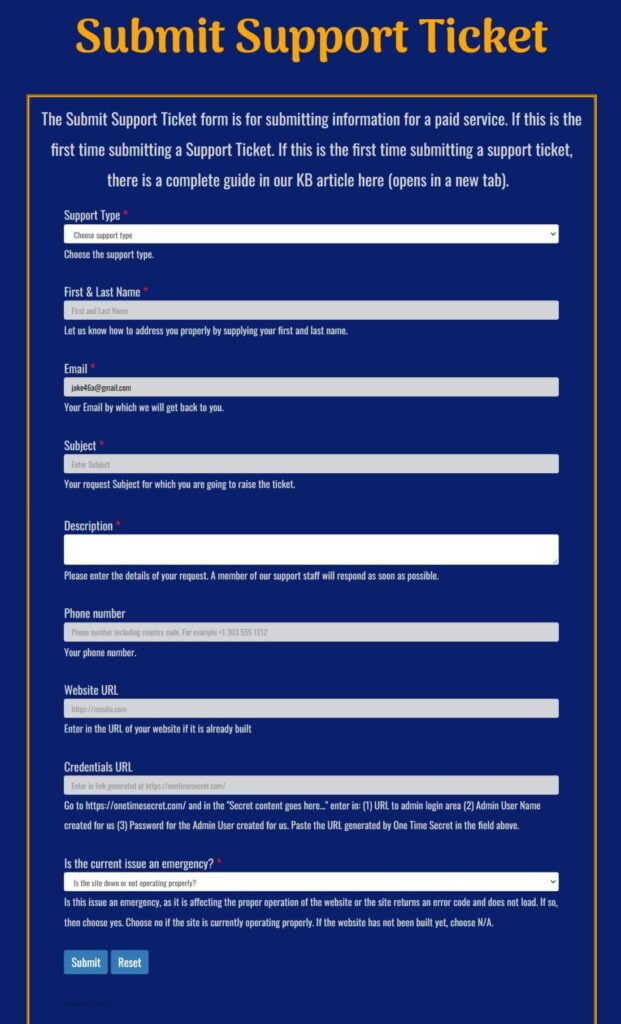 Each field has instructions, but NEVER SEND PLAIN TEXT CREDENTIALS VIA EMAIL OR THE TICKET RESPONSE.  Please create a separate user for PW.A to do their work. In the back-end of WordPress create a new user as shown in image below: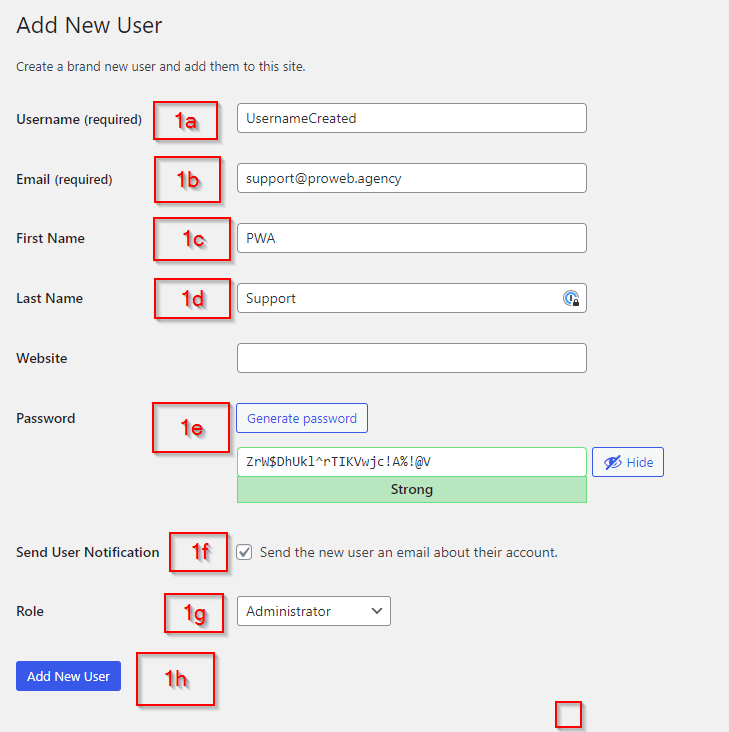 1a – Create a username (copy to a notepad)
1b – Enter the email address of "support@proweb.agency"
1c – Enter in "PWA" for the first name
1d – Enter in "Support" for the last name
1e – Click on Generate password. (copy to a notepad)
1f – Make sure "Send User Notification" is checked
1g – Set the "role" to Administer
1h- Click on "Add New User"
Then go to the onetimesecret.com and fill out the form as shown in the image below: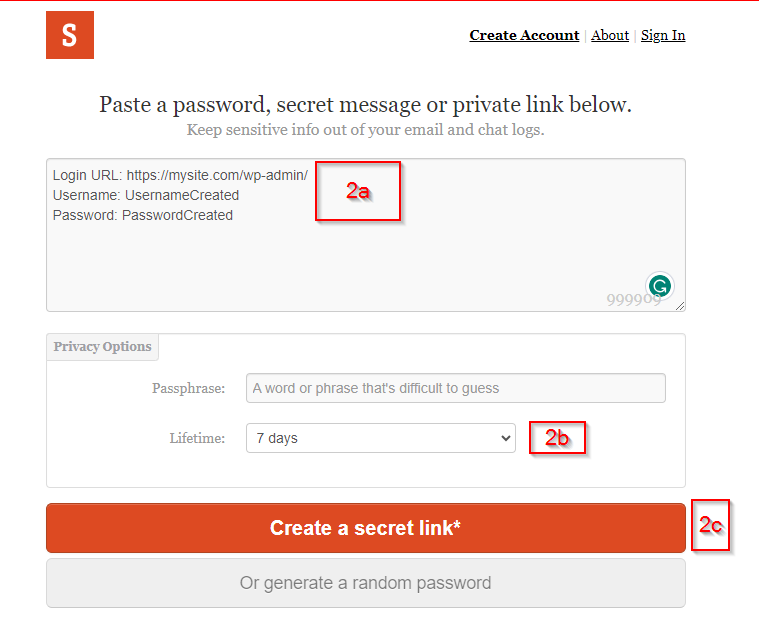 2a – Enter the URL to the back-end of your WordPress site (You may have a plugin installed that changes the URL). Then copy and paste the username and password from the notepad you copied them to when creating the WordPress user.
2b  – Leave Lifetime set to 7 days
2c – Click on "Create a secret link"
You will now see the screen as shown below: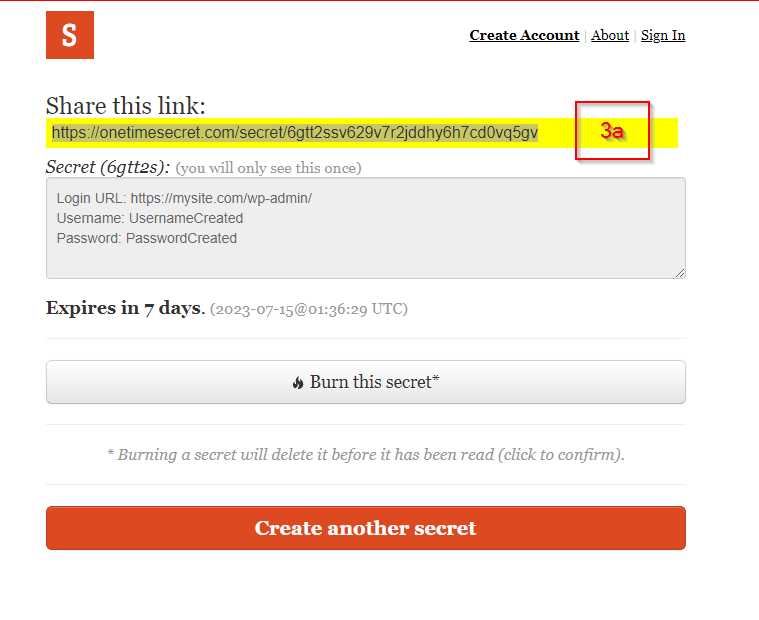 3a – Copy the "Share this link" to the "Credentials URL" in the ticket or in the description area of the ticket as shown in the image below:

If the site is not built yet, just enter "Not Built Yet".
If we already have the credentials from a previous ticket just enter "Already sent".